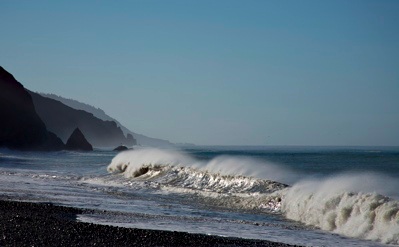 Shutter Priority mode is often overlooked in favor or Program and Aperture Priority. But there are many situations where this forgotten mode comes in handy. Today, I discuss using shutter priority to control the appearance of water, freeze action in sports photography, create unique effects with panning, and for controlling the background when using the flash.
In the shot above, I used a fast shutter speed (1/500th) to freeze the action of the breaking wave and capture the mist in the air. If I had wanted a different effect, such as a more ethereal look, then I could mount the camera on the tripod and set the shutter to 1/15th or longer (1/10 or even 1/4). This is a good situation where using Shutter Priority can help you capture the shot you want -- whether it's frozen motion or soft flowing textures.
Listen to the Podcast
Now that I've piqued your curiosity, it's time to listen to today's audio show titled, "Shutter Priority." You can download the podcast here (29 minutes).
Technorati Tags: digital photography, tips, podcast, technique