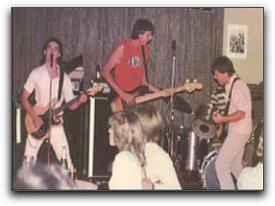 The techniques used to create 30 Miles East of LA are very simple using basic software. The movie has 3 tracks: video (created in FotoMagico), music, and voiceover (both tracks added in iMovie HD). In this podcast, I talk about how the project began 2 years ago when I digitized the 20 year-old tapes of the band's music. I then began collecting and scanning the visuals, and even returned to Southern California to photograph the locations where the band performed 2 decades ago.
If you're interested in saving some of your old cassette tapes, you may want to read the article, Five Fun Ways to Play with Audio Hijack Pro. It describes how to use Audio Hijack to convert analog tapes to digital files.
Listen to the Podcast
Now that I've piqued your curiosity, it's time to listen to today's audio show titled, "The Making of 30 Miles East of LA." You can download the podcast here (29 minutes).
Technorati Tags: digital photography, podcast, software