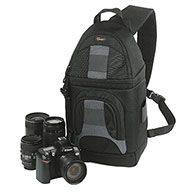 Exploration is in the air. It's vacation time! All of the techniques we've been thinking about, equipment we've been accumulating, and plans we've been making are about to be put in motion. I'm one of those strange people who actually enjoy packing for a trip. In this podcast, I talk about camera choices, bag selection, accessories, and tips for on the road.
Here are a few links to supplement the conversation:
Review: Lowepro Rolling CompuTrekker AW
Manfrotto Digi Compact Tripod a Winner
Tamrac Expedition 4: More Features, but Higher Price
Sigma 55-200mm F4-5.6 DC Lens Perfect Complement for Canon Rebel
Connecting your iPod video to the TV... Wow!
Listen to the Podcast
Now that I've piqued your curiosity, it's time to listen to today's audio show titled, "Vacation Packing." You can download the podcast here (32 minutes).
Technorati Tags: equipment, digital photography, tips, podcast