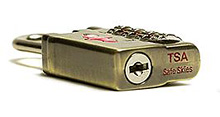 Travelers to and from the United States have to deal with the TSA (Transportation Security Administration) when checking luggage. One of the post-911 rules is that bags cannot be locked. This presents a problem for photographers who have more equipment than they can carry onboard.
There is a solution. You can use TSA-approved luggage locks that have a combination for you and a key slot that only TSA officials have the key for. This prevents snooping in your bags by non-security handlers. If the bags are inspected by TSA personnel, an indicator on the lock turns from green to red letting you know the bags have been opened.
I don't recommend that you pack valuable gear in bags that you check. But if you must, consider these locks as an extra layer of protection.
Technorati Tags: photography, equipment, tips