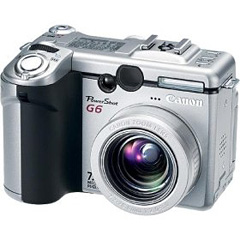 Back when Digital SLRs were wildly expensive, "prosumer" cameras satisfied the needs of advanced amateurs and some pros. These cameras had many SLR features -- such as hotshoes, filter rings, spot meter, manual exposure, fast lenses, and more. Consumers paid a premium price for these cameras, but compared to the even more expensive DSLRs, prosumer models seemed worth it.
In my recent podcast, Five Must-Have Camera Features, I noted the functions that I would insist on if I were buying a prosumer model today. I discuss these because I'm seeing features that were once standard -- such as RAW mode and a hotshoe -- disappearing from this class. Or is it possible this breed of camera is disappearing all together?
Personally, I like cameras such as the Canon G6 and the Sony Cybershot DSC-R1. But these compact, sophisticated picture machines will cost you between $650 and $900. Some people, such as TDS reader Ben D ask, "Why not just buy a DSLR?"
We've already seen Nikon pull back on building prosumer models. Will others follow such as Canon, Olympus, and Sony? Is it time to choose between a beefed-up compact such as the Canon PowerShot S3 IS ($460, but not RAW mode, hotshoe and other "prosumer" features) or a full-blown DSLR such as the Nikon D50? I'm curious about your thoughts around this...
Technorati Tags: equipment, digital photography