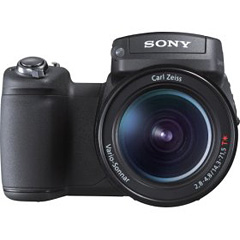 Serious cameras should have serious features. Many advanced amateur cameras can fill the shoes of DSLRs, but in more compact packages. But not all advanced amateur cameras are created equal. Here are five features that I require on my serious cameras.
1) Hot Shoe
2) RAW format
3) Fast lens - maximum aperture of f-2.4 or brighter. I prefer f-2.0
4) Filter ring
5) Remote release

Two "serious" advanced amateur cameras that meet these requirements are the Canon PowerShot Pro 1 and the Sony Cybershot DSC-R1. These are examples only and certainly not the only two advanced cameras that fit these requirements. At the moment, the Sony is the higher rated of the two cameras and has better customer feedback on Amazon.com.
Listen to the Podcast
Now that I've piqued your curiosity, it's time to listen to today's audio show titled, "Five Must-Have Camera Features." You can download the podcast here (24 minutes).
Technorati Tags: review, digital photography, product review