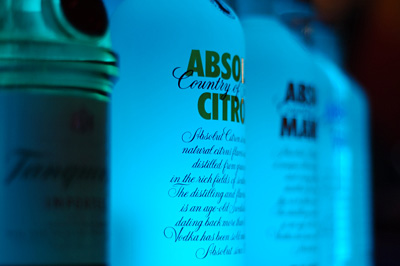 I grabbed this shot while taking architecture pictures for my company," said Chris Glass. We just built a new restaurant, and I was the 'go to' guy for capturing the images."
"While taking all the required wide-angle standard shots, my eye kept going to the bar area in the restaurant. It had frosted glass shelves with neon lights backlighting everything inside. The blue through the bottles was amazing, so when I had a chance, I crawled with my camera and tripod under the boxes to get to the bar shelves, set up the camera, and snapped this shot."
"It was taken with a Nikon D50 with a 50mm f/1.8 (my favorite lens BTW) at 1/100th of a sec with the white balance set to "tungsten". This has become my new favorite picture for my computer background!"
If you have an interesting candid you'd like to share, take a look at our Submissions page, then send us your Grab Shot. If we publish it, you'll receive an ultra cool custom carabineer keychain.
Technorati Tags: candid, digital photography