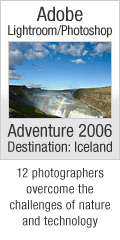 I'm at SFO about ready to get on a plane for Reykjavik as part of the Adobe Lightroom Adventure, and will be depending on my Canon 5D, MacBook Pro, and Adobe Lightroom to handle all of my photography needs. The days are 22 hours long, and I plan on working most of that time. (Although, I hear that the Runtur - pub crawl - in Reykjavik is must-do. And since I'm a people shooter, I think I can justify immersing myself in the experience.)
When I return, I'll have a very good idea of how well this version of Lightroom performs in the field under real shooting conditions. We'll be posting our shots, comments, and hopefully some video on the official Lightroom Adventure site. I'll also post more personal anecdotes, along with audio, here on The Digital Story. So stay tuned throughout the week for updates.
We return from the Adventure the week WWDC begins. I'm speaking at the San Francisco Apple Store on Wednesday, August 9 at 5pm. If you want to see some of what I shot, you might want to drop by. In the meantime, standby, I'm about to board the plane...