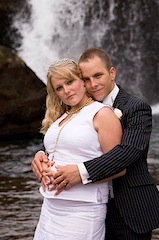 We found a tiny chapel outside of Reykholt Iceland while exploring on Sunday. Before the shooting commenced, we asked a local if it was OK to photograph the church. Not only did we get permission, but I found out there was going to be a wedding later that day. I was thrilled, since I wasn't able to participate in the wedding I had planned on attending the day before. We just couldn't work out the transportation. Now, out of nowhere, Iceland provided me with a second chance.
I've published a few of those images, along with shots from eight other photographers on the team, at this Adventure Web Gallery. If you have a moment, I recommend that you take a look at the work of these great artists. Hopefully, we'll publish a second gallery very soon.
Oh, and back to the wedding. The couple didn't have a photographer lined up. So, I'll be providing them with a few dozen images as a thank you for letting be part of their event.
Technorati Tags: digital photography, Iceland