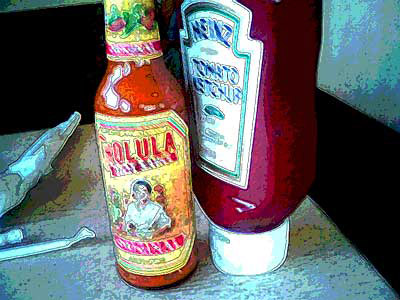 "After getting my first camera phone, my initial thought was, 'well it's a novel idea but not very useful,'" said Harold Thompson.
"One day while waiting for our dinner to come, I took the camera out and begin to pan around to see what might be within range. The colors of the catsup and hot sauce bottles on our table sort of popped. So I took a grab shot, and to my surprise, it wasn't too bad. My next step was to bring it into Photoshop and experiment."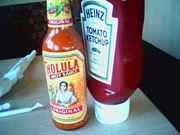 "The final adjustments were pretty simple. I duplicated the background layer, applied a posterize effect, around 6 or 7, and then applied the ink outlines filter on another layer. You can also adjust the exposure which is sometimes necessary with camera phones. Lighting is really a big deal with these little guys."
The camera phone used is a Samsung SCH-a670 with a resolution of: VGA (640 x 480)
If you have an interesting candid you'd like to share, take a look at our Submissions page, then send us your Grab Shot. If we publish it, you'll receive an ultra cool custom carabineer keychain.
Technorati Tags: candid, digital photography, grab shot, The Digital Story