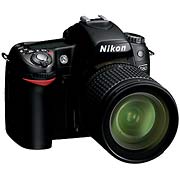 The new Nikon D80 is a 10.2 megapixel sophisticated DSLR designed for serious enthusiasts who want great images but don't have the budget for a high-end Nikon.
The specs are impressive: new 12-bit image processing engine, 2.5" LCD, 0.18 sec. start-up with fast 80ms shutter response, three metering modes including spot, 3 frames per second, built-in flash with wireless commander, and bright 0.94x optical glass viewfinder. The body should retail for $999, or get the kit for $1,299 that includes the new 18-135mm DX Zoom Nikkor lens. Personally, I think the kit sounds like a better deal.
This camera is clearly a cut about the D50 and D70. It has more resolution, better image processing, and lots of new features. It's not inexpensive by any means. $1,300 for body and lens is a sizable investment for most enthusiasts. But I think Nikon had done their homework here and put together a camera that will satisfy this demanding niche. I'll report more once the test results begin to surface. The camera should be available sometime in September.
Technorati Tags: equipment, digital photography, The Digital Story