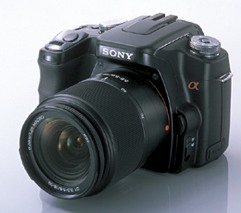 A sophisticated 10-megapixel DSLR with lens for under $900? That's what Sony is offering with their new Alpha D-100. This outfit should be especially appealing to folks who own Minolta SLR lens that will work nicely on this new body.
In a recent review on DP Review, Phil Askey concluded that Sony has produced a real contender here. The picture quality is great. And the merging of Minolta and Sony creativity has yielded some innovative features such as Eye-Start AF and In-hardware Dynamic Range Optimization. The In-body SteadyShot system provides about 2 stops of additional shutter speed latitude with any lens you mount.
The complaints were few. Noise levels are a little high at ISO 800 and 1600, and the proprietary hot-shoe design limits fewer third party flash options. But in the end, the Alpha A-100 earned a "Highly Rated" from DP Review.
Technorati Tags: digital photography, product review, DSLR