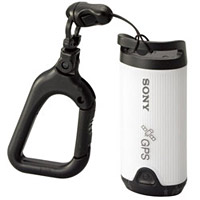 Sony's new GPS-CS1 is compact device (about 55 g) that records your GPS coordinates every 15 seconds while in the field. Then, when you return home, you can synchronize this information with your picture metadata and know the approximate location of every image you captured.
The $150 USD device works with Sony Cyber-shot DSC-S500, S600, S45, W30, W40, W50, W70, W100, H2, H5, T30 and Sony α (alpha) DSLR-A100 cameras using Windows software. It's not clear yet if it can be used for other cameras via a workaround. We'll have to wait until it actually ships to find out.
In the meantime, this is probably the first of many such devices we'll see that enable us to record satellite data and synch it with our image metadata.
Technorati Tags: equipment, digital photography, gadgets