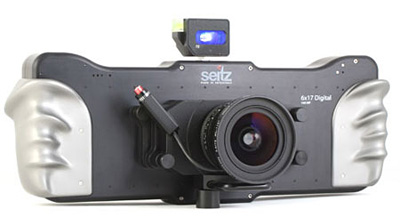 This one is just for the dreaming of it... a high resolution 6x17 (160 million pixels - 7,500 x 21,250 resolution) digital camera that records shots in just one second. Impossible? No says Seitz, the maker of this amazing device.
The image sensor was developed by DALSA Corporation exclusively for Seitz. It has very high sensitivity and broad ISO range: 500-10,000, high image quality thanks to 48-bit color depth, low noise, high dynamic range, DALSA anti-blooming feature, Seitz image optimization algorythms, and you have the freedom to use your own raw-conversion workflow. It accepts world-class Schneider or Rodenstock large format lenses (on Seitz lens board) or Linhof Technorama, Fuji and other large format lenses (on adaptor plates). Bottom line, you get a gigantic digital panorama at nearly the speed of many "regular" digital cameras.
The price? It's big too. The Seitz 6x17 Digital will set you back 28,900 Euros (that's about $36,800 American). Oh my...
Technorati Tags: digital photography, The Digital Story