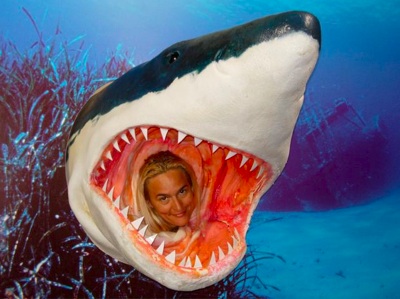 "After 30 years of traveling around the world, I went back to Italy" said Nish. "My new job is to shoot pictures of people putting their heads in the mouth of the shark. This shark is next to a big aquarium full of real sharks. I've never been a photographer, and started listening to Derrick's digital story podcast, and now I am totally addicted to it."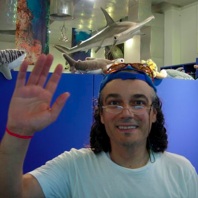 "During work, I use an Olympus Camedia in program mode," Nish continues. "This shot of my girlfriend was taken with my Nikon Coolpix 5200. In the last 3 months, I've taken more then 3000 pictures of people going into the shark. I try to be creative, finding new ways to place people inside. Lots of fun and actually good money."
If you have an interesting candid you'd like to share, take a look at our Submissions page, then send us your Grab Shot. If we publish it, you'll receive an ultra cool custom carabineer keychain.
Technorati Tags: candid, digital photography, grab shot, The Digital Story