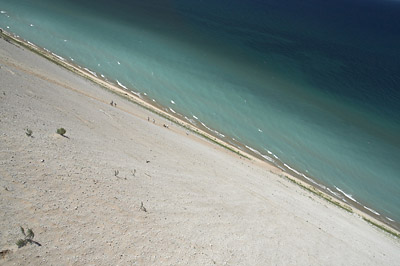 "Our annual family vacation took us to Traverse City, Michigan. We have been going to this location for many years, but this year we decided to take a day trip to the Sleeping Bear Dunes National Lakeshore," said Brian C. Davenport.
"There were many photo ops here... almost too many. This shot keeps drawing me back. It's a photo from the Lake Michigan overlook, 450 feet above the lake. There's a small trail that leads down to the lake for brave souls who want to endure the hike. It takes about 15 minutes to get down to the lake, but about an hour climb back up... not for the faint of heart or unprepared hiker -- very steep incline. There were many warning signs around to that effect."
"As you can guess... there were many that were unprepared. Most ended up crawling on their hands and knees to make it back up. Those specks you see... are people trying to climb the dune."
If you have an interesting candid you'd like to share, take a look at our Submissions page, then send us your Grab Shot. If we publish it, you'll receive an ultra cool custom carabineer keychain.
Technorati Tags: candid, digital photography, grab shot, The Digital Story