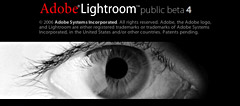 Adobe announced the release of Lightroom Beta 4 today at Photokina. This version is a substantial update for both Windows and Mac users. I've been testing various builds of Beta 4 on a Mac since the Iceland Lightroom Adventure, and I can tell you from experience, that it's worth the download.
Of all the new features, and there are plenty, take a look at the Develop module in Beta 4. New tools such as Fill Light are some of the most photography-friendly and useful image processing controls I've ever used. I really like refining my pictures with Develop in Lightroom.
One word of caution however... Lightroom is still under development itself. And the team has been very candid about the fact that things will change between the betas and final release. So don't get too married to features, and keep in mind that work you do in the beta version may not carry over to the final release -- Beta 4 included. This is for testing and enjoyment only.
That being said, whether you're on Mac or Windows, Beta 4 is a substantial move forward for Lightroom. You might want to take a look at it.
Technorati Tags: digital photography, software, The Digital Story