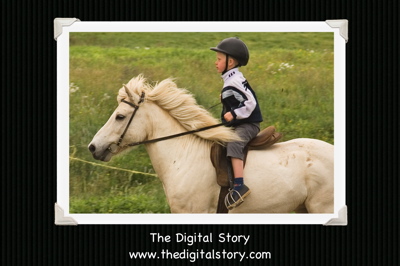 With iPhoto 6 and a compact photo printer, you can create stunning postcards right at your desk. In previous posts, I've talked about using the greeting card function in iPhoto to create title graphics for slideshows, and then how to animate them. Now you have another use -- print your own postcards.
I use a older Canon CP-330 compact printer, but any of the models will work for this project including the new SELPHY CP720. These are affordable little units that output 4"x6" dye sub prints with UV coating that last for 100 years. Each print is made of durable card stock with postcard markings on the back. I would guess that similar printers are made by other companies too, such as Epson and HP.
To make you custom postcard, just follow these instructions, except when it's time to print, choose the "from 1 to 1" option in the print dialog box and output to your compact printer. Make sure you have the card stock oriented the right way so you're not printing upside down on the card stock. The postcards look simply amazing, better than what's on the rack at the local souvenir shop. And they don't cost more either. Each card you output sets you back about 28 cents. Give it a try!
My postcard illustrated here will be used to promote The Digital Story site. You can create cards to promote your online galleries and send them to interested parties. Something to consider...
See It in Person
If you're in Northern California on the weekend of October 7, stop by the Macintosh Computer Expo and sit in on my iPhoto 6 Tips and Tricks session. It's free, and I'll show you this tip plus lots of other cool iPhoto goodies. For those who really want to dig into some shooting techniques, stick around another day and sign up for my Digital Photography Made Amazing half day workshop on Oct. 8. But sign up early because seating is limited.
Technorati Tags: digital photography, software, The Digital Story, iPhoto