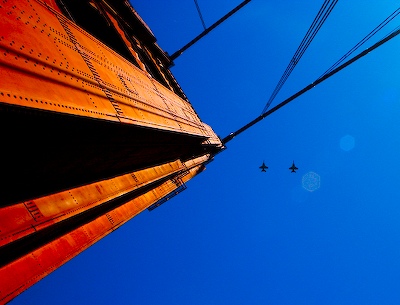 "I took this shot from the Golden Gate Bridge on a Friday bike ride," said Brad Immanuel. "Two jets, F-18s, I think, were flying formation around the bay. They flew toward the east side of the bridge and then over it while I checked the view out. I had a lot of trouble getting my Digital Rebel to auto-focus, and by the time I got a shot off, they were right overhead. So it's a hastily composed image, but I think the tower, planes, and glare all play well. I turned up the color in Aperture."
Actually, Brad, this might be an instance when the shot you could get was the best composition. Brad recorded this photo with his Digital Rebel XT set to ISO 400.
If you have an interesting candid you'd like to share, take a look at our Submissions page, then send us your Grab Shot. If we publish it, you'll receive an ultra cool custom carabineer keychain.
Technorati Tags: candid, digital photography, grab shot, The Digital Story