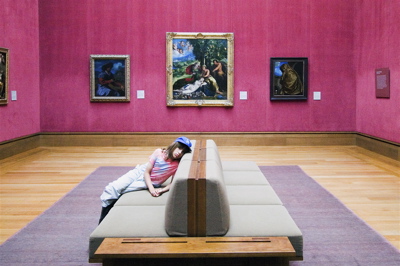 "I grabbed this shot at the Getty Center in Los Angeles," said Julianne Fishell. "My son was tired, and his feet hurt, so he collapsed on the bench while the rest of us looked at the paintings. I took a quick shot of him with my camera because I liked the way the empty room looked. I didn't realize until I uploaded the photo that his tie dyed shirt matched the colors of the gallery, and his state of collapse mimicked the position of the nude in the painting behind him."
Julianne used a Canon 30D with the Canon EF-S 10-22mm lens. ISO 1000, shutter speed 1/80, aperture f/4.0. There was no flash allowed, so she had to use the super high ISO. She had the camera on shutter priority and had been snapping shots around the interior of the museum to try out her lens, which was brand new at the time.
If you have a candid you'd like to share, take a look at our Submissions page, then send us your Grab Shot. If we publish it, you'll receive an ultra cool custom carabineer keychain.
Technorati Tags: candid, digital photography, grab shot, The Digital Story