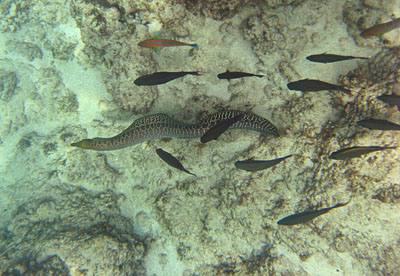 As I continue to work with the Canon SD700 and the WP-DC5 underwater housing in West Maui, I'm getting more comfortable with the rig each day. The only glitch I had today was some fogging on the inside of the housing after a short session of above-water shooting. So I had to swim back to shore, take the camera out of the housing, defog, then return for a second tour of snorkeling.
I'd also recommend the optional weights that you can get for the housing. I noticed that I wasn't staying submerged as long as I would have liked on my free dives. Part of what was working against me was the WP-DC5 housing that is buoyant by design. The optional weights help counter that. And when you're trying to stay under during a dive, every little bit helps.
The top image is a Moray Eel I caught relocating from one rocky area to another. I had to shoot fast to catch him, and the SD700 was very responsive. The bottom shot of the Rectangular Triggerfish is from above also. I really like the clown-like face, complete with blue lips, that is displayed on the top of this beautiful fish.