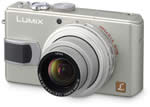 This is a camera that many serious photographers want to buy, but may be leery of because of the image processing shortcomings in the first model, the LX1.
The latest release, the Panasonic Lumix DMC-LX2, once again tempts our willpower. It has a 4X Leica zoom with image stabilizer (that is 28mm on the wide end), true 16:9 format option, 10 megapixels of resolution, 2.8 inch LCD monitor, beautiful metal body, RAW mode, ISO range up to 1600, and a brand new Venus III image processing engine.
The bottom line with this beautiful machine seems to be this... if you shoot at ISO 100, or even 200, you're going to be pretty happy with the results. But once you start pushing it to ISO 400 and higher, you're going to have some image noise to deal with. For more details about this, take a look at the review on photographyblog. If grappling with the noise at higher ISOs isn't a deal breaker for you, this is a gorgeous camera with a Leica lens that you can buy for around $500.
Technorati Tags: digital photography, The Digital Story