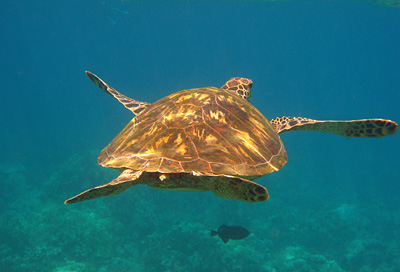 I had been hoping all week to visit a sea turtle underwater, and I finally got my chance while snorkeling at Kahekili Beach Park in Maui. I spotted this guy resting beneath a rock ledge about 20 feet down. I knew that turtles generally come up for air a couple times an hour, so I just hung out to see what would happen. Sure enough, about 15 minutes later he headed for the surface. I gave him lots of space so he could go where he wanted, but photographed his ascent and decent.
I have all sorts of great shots in this series, but this is one of my favorites. He looks graceful, and the feeling of weightlessness is really communicated here. After he caught his breath, he went back to his spot under the reef.
One quick note about sea turtles. If you're lucky enough to visit one while snorkeling, please give them lots of space. And what ever you do, don't touch.
One final shot from Maui, then back to regular business. I'm including this wonderful congregation of fish from a Black Rock dive because it just felt so good to be swimming with them. Hope you enjoy it. See you back in Northern California for my next post.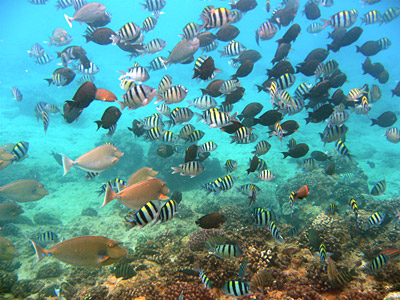 Technorati Tags: digital photography, The Digital Story