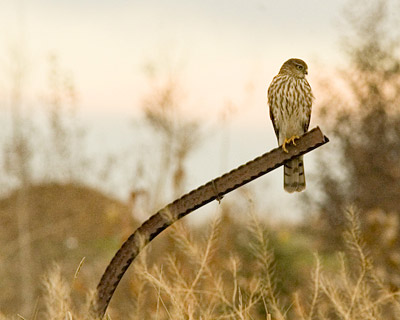 "I was just returning to my car just after day break because the rain was getting harder," said Mark Gale. "I noticed a small bird fluttering through the bare branches of a bush. I stopped where I was and set down my tripod. I then hunkered down to see what the excitement was all about. Seconds later this hawk dove in and missed the bird who could move around in the smaller parts of the bush. Tired and not so happy that she missed breakfast, she sat on this fence post for a couple of seconds before the hunt began again."
Mark captured this grab shot with a Canon 30D with EF 300mm lens plus a 1.4x extender at ISO 800 at 1/125th of a second.
If you have a candid you'd like to share, take a look at our Submissions page, then send us your Grab Shot. If we publish it, you'll receive an ultra cool custom carabineer keychain.
Technorati Tags: candid, digital photography, grab shot, The Digital Story
---
Sponsor Note...
ExpoDisc Custom White Balance -- Simply Better Color. Simply Better Pictures. Visit www.expodisc.com