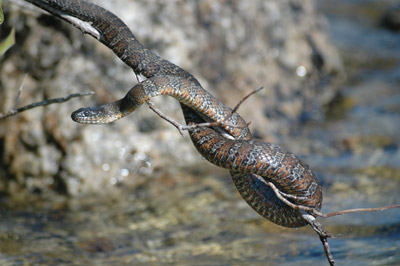 "My son and I were canoeing around the islands at Charleston Lake Provincial Park," said Andre Campeau, "when we came up to this northern water snake basking in the morning sun."
Andre used a Nikon D70 with a 55-200 Sigma zoom at ISO 200 to capture this wonderful grab shot.
If you have a candid you'd like to share, take a look at our Submissions page, then send us your Grab Shot. If we publish it, you'll receive an ultra cool custom carabineer keychain.
Technorati Tags: candid, digital photography, grab shot, The Digital Story
---
Sponsor Note...
You're Not Ken Burns -- But FotoMagico slideshows are so good that people will believe that he helped you.