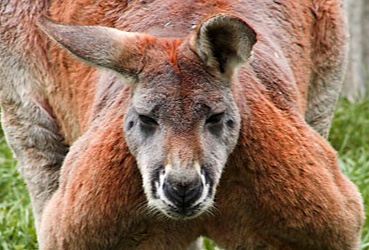 "I recently went to the Detroit Zoo and had a chance to experience their new "Australian Outback" exhibit," said Brian C Davenport. "It's a pretty cool concept. Just you and the animals... no walls, no cages per se. You are in the exhibit with only a roped off path for you to follow. The animals come and go as they please and even stop to stare at the visitors. One even decided to take a little nap on the visitor path. This big fellow seemed interested in the big black "eye" I was pointing at him."
Brian used a Canon DRebel XT, Canon EF 75-300 at 300mm, ISO 400, AP mode at f/8 and shutter was at 1/125th of a second.
If you have a candid you'd like to share, take a look at our Submissions page, then send us your Grab Shot. If we publish it, you'll receive an ultra cool custom carabineer keychain.
Technorati Tags: candid, digital photography, grab shot, The Digital Story
---
Sponsor Note...
ExpoDisc Custom White Balance -- Simply Better Color. Simply Better Pictures. Visit www.expodisc.com