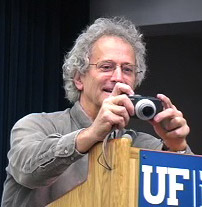 Camera club member Craig Lee pointed me to a lecture by renowned photojournalist David Burnett. Craig wrote:
"We had a great guest speaker, photojournalist David Burnett, at UF Monday night. He gave a guest lecture in conjunction with the opening of a show that has been making the rounds at university galleries. I filmed him as part of my job (Web Administrator at the journalism college here), and the video is available as a QuickTime streamed webcast on the University site."
David's commentary includes discussion and images of U.S. presidents and presidential campaigns, sports including the Olympics and baseball, and the aftermath of Hurricane Katrina. It's really worth a look.
Thanks Craig for the heads up!
Technorati Tags: digital photography, The Digital Story
---
Sponsor Note...
Add Magic to Your Slideshows -- FotoMagico presentations are so amazing that your audience will be asking how you did it.