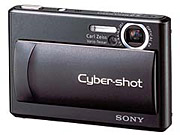 Many consumers know about Sony's recall of laptop batteries that it manufactured for its computers, as well as those for Apple and Dell. But the Japanese electronics giant has also posted another CCD Service Advisory.
According to Imaging Resource, the problem is caused by "internal wiring in the CCD sensor comes loose at high temperatures and humidities, and causes the camera to stop recording images, or to record distorted images. During the last round of service advisories we heard that the problem may have related to moisture penetrating into epoxy chip packaging. Interestingly, the Japanese PC Watch website states in its coverage of the news that this time around, the affected sensors use ceramic packaging, which generally offers better environmental sealing. According to PC Watch, moisture can potentially penetrate the ceramic packaging nonetheless, entering via the gluing surface."
Affected cameras recently added to the list include: Cyber-shot DSC-F88, DSC-M1, DSC-T1, DSC-T1, DSC-T3, DSC-T33, DSC-U40, and DSC-U50. We're still waiting for news from Sony USA for next steps.
Technorati Tags: digital photography, The Digital Story