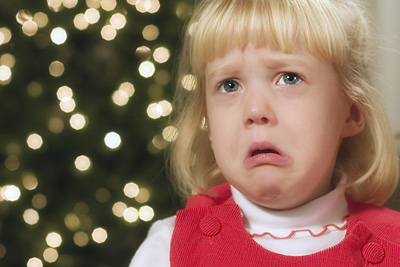 It's true, there will be no podcast for this last week of 2006. But don't be sad, I'll have plenty of interesting posts on the web site to keep you busy. Plus, you still have a few days to finish up your photo assignment for December, pool of light. I'll be back on the air on Jan. 2 with a brand new podcast to kick off 2007.
As for today's grab shot, it was captured by Christopher Thompson. He recorded this great image while taking pictures for friends. Here's what Christopher had to say about it...
"I snapped this pic while taking Christmas photographs for a good friend's family. The four kids were pretty wound up and excited about getting dressed until it was time to settle down and sit still. Once I had set up the lighting, I stayed put and started framing up the kids while checking exposure."
"It's funny how adults have preconceived ideas about how things should go. The parents apologized to me for putting up with the wild ones, but I found that if I just kept patient, opportunities would present themselves. The kids make all the magic happen; I just try to capture a bit of it on film er flash card. You might say this was an unhappy accident."
"The Lighting set up consisted of a Lowel Omni-Light 500 Watt Focusing Flood Light as the key, a Photoflex 22" Silver LiteDisc as the fill, and a Lowel Pro 150 Watt as hair light. All lights borrowed from school. As for the camera... Canon: EOS 30D, ISO: 400, Exposure: 1/60 s at F/2.8, Exposure Mode: Manual, Lens: EF50mm f/1.4 USM, Shot in Raw + small jpg, color corrected and sharpened Photoshop CS2, Mac OS X 10.4.8, Powerbook G4"
If you have a candid you'd like to share, take a look at our Submissions page, then send us your Grab Shot. If we publish it, you'll receive an ultra cool custom carabineer keychain.
Technorati Tags: candid, digital photography, grab shot, The Digital Story