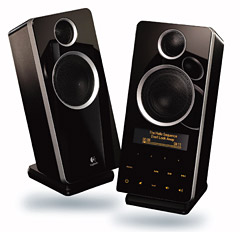 I've been testing the Logitech Z-10 Interactive Speakers, which are stylish desktop companions for your Mac or Windows computer. The Z-10s feature 30 watts of power driving a pair of 1-inch dome tweeters and 3-inch high-excursion woofers. They can sit on both sides of your laptop or desktop computer and deliver full-bodied audio for slideshows, movies, digital music, and gaming.
Logitech's innovative backlit display features tons of control and information for Windows users, but is only partially enabled for the Mac set. You can get all of the details about this, included set up for Macs, in my blog post titled, Logitech Z-10 Interactive Speakers for Mac Users.
At $149, the Z-10s are not cheap, but they are well designed and sound terrific. And if you've been depriving yourself of quality audio at your multimedia workstation, these speakers are a treat for the ears.
Technorati Tags: gadgets, The Digital Story