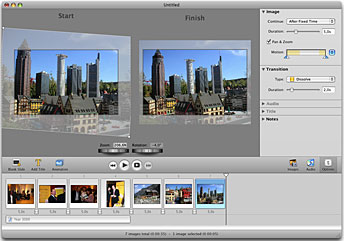 Boinx Software has released a public beta of the redesigned FotoMagico to garner user feedback before making the final version available. Major improvements in 2.0 include the ability to create a standalone player for your presentations, watermark capability, fresh user interface, and performance enhancements.
Oliver Breidenbach of Boinx Software comments, "FotoMagico 2 enters the Public Beta testing phase. FotoMagico 2 represents a significant step forward by introducing high resolution, standalone slideshow players that can be shared with people who do not have a license for FotoMagico. In order to test this new capability thoroughly, FotoMagico 2 is now available as a public beta with a final release planned for March, 2007."
You can download the public beta today and give it a spin. Be sure to let Boinx know what you like and what needs improvement.
Technorati Tags: digital photography, The Digital Story