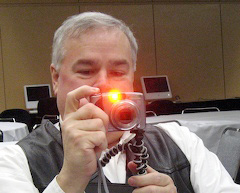 Many photographers hate the flash because they haven't learned how to tame it. But you can employ your strobe to create interesting, and yes even natural looking images... if you know just a few secrets.
Modifiers that redistribute the light have some value, such as the Gary Fong Lightsphere. But there's much you can do with just your flash and good technique. In this podcast I review some of my favorite flash tips to help you get more natural looking pictures.
Feb. Photo Assignment
I also mention the February 2007 photo assignment, "Texture." Deadline for submission is Feb. 28. You can read the details on our Submissions page.
Listen to the Podcast
Now that I've piqued your curiosity, it's time to listen to today's audio show titled, "More Flash Techniques." You can download the podcast here (29 minutes).
Technorati Tags: digital photography, podcast, The Digital Story
---
Sponsor Note...
Add Magic to Your Slideshows -- FotoMagico presentations are so amazing that your audience will be asking how you did it.