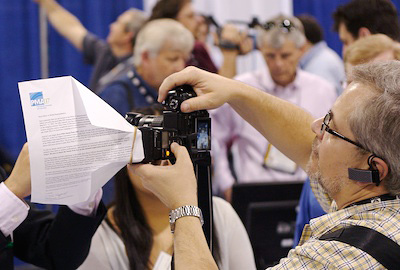 I saw tons of cool equipment at Wednesday's PMA Sneak Peek event, but my favorite was a sheet of letter-size paper folded and attached to a flash with a rubber band to create a very effective diffuser.
I noticed that Steve Makris, a technology writer for the Edmonton Journal, using the device pictured above. I thought is was so simple, yet elegant and quite useful. If you look closely, he's actually using a PMA memo.
And the best thing about it... "I get a fresh one every day," says Steve.
All the more reason to make sure you have a handful of rubber bands in your camera bag.
Technorati Tags: digital photography, The Digital Story