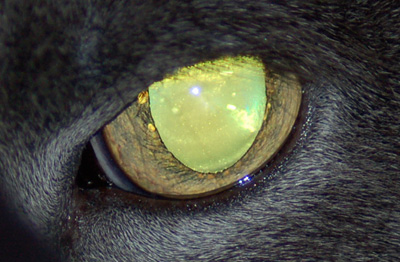 "This is the first photo I ever took with my Nikon D50," said Ken Larson. "I can't remember which lens I was using, but I was looking through my house for something to shoot and my girlfriend's cat, Grim, was sitting there and had just opened his eyes. The flash hit him just right."
"This shot is cropped, but no other editing has been done. I've tried to get another shot like this ever since, but never again."
If you have a candid you'd like to share, take a look at our Submissions page, then send us your Grab Shot. If we publish it, you'll receive an ultra cool custom carabineer keychain.
Technorati Tags: candid, digital photography, grab shot, The Digital Story
---
Sponsor Note...
Add Magic to Your Slideshows -- FotoMagico presentations are so amazing that your audience will be asking how you did it.