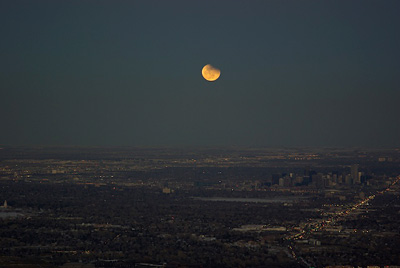 "The eclipse was almost over as the moon rose over downtown Denver" said Mark Castleman. "This was taken from Lookout Mountain, just west of Golden, Colorado using a tripod."
Mark set his Pentax K10D to ISO 100 (which is the right setting since his camera was on a tripod. The low ISO helped keep the noise in the sky to a minimum.) The exposure was 1/15th at f-5.6.
Nice job, Mark!
If you have a candid you'd like to share, take a look at our Submissions page, then send us your Grab Shot. If we publish it, you'll receive an ultra cool custom carabineer keychain.
Technorati Tags: candid, digital photography, grab shot, The Digital Story