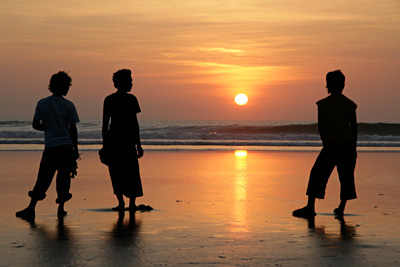 "I was at the beach during sunset and walking around looking for interesting people (surfers, runners, kids, fishermen) to silhouette against the setting sun," said Gustavo Fernandez. "I walked by this local group of friends and immediately saw an opportunity. I took the first three images from a distance, and they looked like I was towering over them since the beach slopped upwards and I am 6ft tall. This was the fourth shot where I changed the perspective by getting lower and zooming out on my lens to fill the image with their silhouettes."
Gustavo used a Canon 30D with a 17-85mm lens zoomed out to 75mm. ISO: 400, shutter: 1/250 and aperture: F10. Nice shot!
If you have a candid you'd like to share, take a look at our Submissions page, then send us your Grab Shot. If we publish it, you'll receive an ultra cool custom carabineer keychain.
Technorati Tags: candid, digital photography, grab shot, The Digital Story