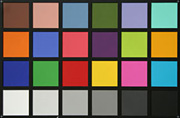 I've been a big fan of the Canon Rebel XT (350D) and carry it in my backpack as my point and shoot. Recently I got my hands on the Rebel XTi (400D) and have been enjoying the larger 2.5" LCD, improved user interface, automatic dust sensor cleaning, the cute little green power-on light, and of course the 10.2 megapixel sensor. This camera handles all of my Canon lenses, shoots RAW, and is quite responsive.
But I started hearing little comments such as, "Well, you know that the XTi is a lot noisier than the XT, right?" Actually, no I didn't. I ignored the first few remarks, but then had to do a little research to get to the bottom of this. Why? Well the images I was shooting looked pretty good, and I would have been hard-pressed to tell the difference between RAW files shot with the XT and the XTi. (Now compared to the 5D is another matter...)
My research led to me an interesting report published on Camera Labs. If you're interested in this sort of thing, you should read it. They did a great job of comparing noise levels between the Canon Rebel XT, XTi, Nikon D200, and Sony Alpha. Their remarks?
"In terms of its 10 Megapixel rivals, the EOS 400D / Rebel XTi delivers essentially the same results as the more expensive Nikon D200 at 200 ISO and above, while arguably enjoying a smoother image at 100 ISO. Interestingly, the Sony Alpha A100 exhibits noticeably higher noise than any of the other models here, especially at 800 ISO and above. The bottom line is Canon may have increased the resolution of the 400D / XTi, but its noise levels remain very low and usable even up to 1600 ISO."
As you continue through the report, they could find some small differences at ISO 1600 between the XT and XTi. But they don't seem like an issue in real life shooting, and they certainly don't offset the other advantages provided by the XTi.
My bottom line... the Canon Rebel XTi is my new point and shoot camera. And I really like the shots it produces.
Technorati Tags: digital photography, The Digital Story