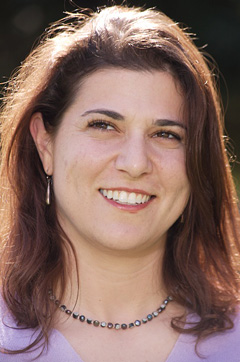 Spring is in the air and outdoor portraits are just around the corner. If you don't have the space or the budget to set up a dedicated photo studio, you can capture remarkable images outdoors with just a few affordable accessories.
For this podcast, I grabbed my Photoflex Lite Discs and headed to the park with photographer friend Ben Long and Joanna who agreed to be our subject. We recorded hundreds of images in bright light and shade using a variety of techniques. For the shot featured here, I used rim lighting on the hair (by turning the model's back to the sun) and my Canon 580 EX flash for fill. The camera was a Canon 5D with a 300mm lens.
In this podcast I talk about the variety of techniques we used that day for our outdoor portrait shoot. I'm sure there are a few tips in there that are perfect for you.
Monthly Photo Assignment
I also discuss this month's photo assignment, Self Portrait. I think it's time we get out from behind our camera and get in front of it. As with all of our assignments, I hope you add a creative twist to your approach. You can read more about how to submit on our Submissions page.
Listen to the Podcast
Now that I've piqued your curiosity, it's time to listen to today's audio show titled, "Outdoor Portraits." You can download the podcast here (28 minutes).
Technorati Tags: digital photography, podcast, The Digital Story
---
Sponsor Notes...
Add Magic to Your Slideshows -- FotoMagico presentations are so amazing that your audience will be asking how you did it.