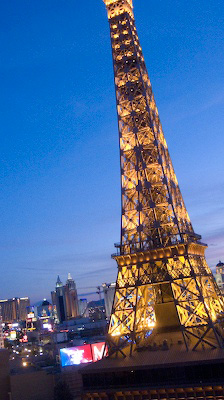 Podcast recorded at Bally's Hotel in Las Vegas, site of the WPPI Convention. Looking out my window at Bally's, I see the Las Vegas version of the Eiffel Tower. As promised in the show, I photographed the structure at twilight. This shot was captured with the new Panasonic Lumix FX8 camera that I'm testing. Settings at ISO 400, 1/15th @ f-2.8, in Raw mode with the aspect ratio set to 16:9. You can see some noise in the sky, but the colors are vivid and sharpness quite good with the Leica zoom lens. I talk a bit about this camera in the podcast, as well as a follow up to the Canon Rebel XTi (400D) post from last week.
I went to my first official WPPI event last night - a talk by Art Wolfe, who is a talented nature photographer. Art shared lots of tips, discussed his upcoming public television series Travels to the Edge, and of course showed off his photos.
Monthly Photo Assignment
I also discuss this month's photo assignment, Self Portrait. I think it's time we get out from behind our camera and get in front of it. As with all of our assignments, I hope you add a creative twist to your approach. You can read more about how to submit on our Submissions page.
Listen to the Podcast
Now that I've piqued your curiosity, it's time to listen to today's audio show titled, "WPPI, New Cameras, and More." You can download the podcast here (18 minutes). You can also subscribe to the podcast in iTunes
Technorati Tags: digital photography, podcast, The Digital Story
---
Sponsor Notes...
Add Magic to Your Slideshows -- FotoMagico presentations are so amazing that your audience will be asking how you did it.