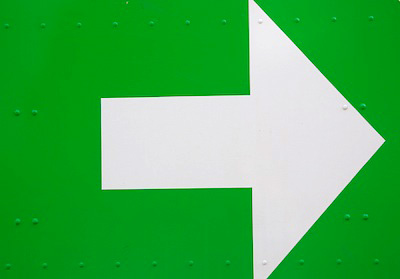 Jay Maisel recently held court at Photoshop World in Boston. He talked about perception, color, light, and gesture. I was there marveling at his photos and taking notes trying to capture as much of his wisdom as possible to share with you.
In this podcast, I recap the highlights of Jay's presentation. In his thoughts about perception, for example, I retell a story about this photo of an arrow (shown on this page, taken by me). Jay told a friend about a photo of an arrow he just took on a truck parked downstairs. His friend said there was no arrow on that truck. Upon closer inspection, he saw that the arrow was formed in the negative space of the FedEx logo (between the E and the X). These anecdotes are useful and interesting, and can help make us better photographers. I hope you like them.
Monthly Photo Assignment
I also discuss this month's photo assignment, Eye of the Beholder. You can read more about how to submit on our Submissions page.
Listen to the Podcast
Now that I've piqued your curiosity, it's time to listen to today's audio show titled, "Jay Maisel at Photoshop World." You can download the podcast here (28 minutes). You can also subscribe to the podcast in iTunes
Technorati Tags: digital photography, podcast, The Digital Story
---
Sponsor Notes...
Add Magic to Your Slideshows -- FotoMagico presentations are so amazing that your audience will be asking how you did it.