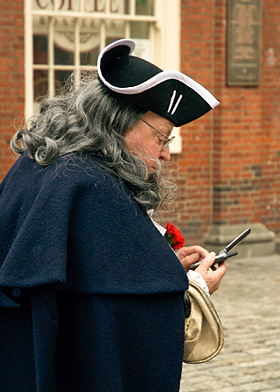 "As I walked through Boston's Faneuil Hall Market Place today," said Greg West, "the gentleman who portrays Ben Franklin pulled a cell phone from his cloak and took a call. Whether it was Jefferson, Adams, or Hancock himself, the inopportune interruption was the Cingular costume flaw of this beloved character."
Greg grabbed this shot using a Nikon D200, Nikkor 18-70mm AF-S at f/4.5, 1/320.
If you have a candid you'd like to share, take a look at our Submissions page, then send us your Grab Shot. If we publish it, you'll receive an ultra cool custom carabineer keychain.
Technorati Tags: candid, digital photography, grab shot, The Digital Story