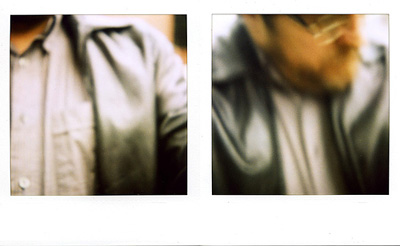 "I have a Polaroid back for my Holga," says Rick LePage. The back costs 3x more than the Holga itself, and I'm still perfecting exposure with it since the Polaroid film ISO is different than what the Holga is set up for. But the images this combination produces... well, they're something else."
Rick LePage is currently editor at large at Macworld Magazine. He is a knowledgeable photographer and has become an expert in inkjet printing. I have another interview with him about printing over on the Inside Aperture site. (Really worth a listen if you're in the market for a new printer.)
But today we're talking about one of Rick's favorite types of media: Polaroid film. Rick rediscovered Polaroid photography recently when he found an SX70 in good shape. It's one of the cameras he grabs on his way out the door everyday, and he's captured some great images with it. Then he discovered that you can mount a Polaroid back on a Holga, and his Polaroid experimentation broadened even further. In this podcast, Rick talks about his passion for instant photography and the process he uses to take images from camera to his flickr site. It's a terrific interview that I'm sure you'll enjoy.
Polaroid self-portrait at top of page by Rick LePage.
Links Mentioned in the Show
Rick LePage, on flickr:
www.flickr.com/photos/bigbuckaroo/
Also, Rick's Polaroid Collection on Flickr
Flickr's top 100 Polaroids:
www.flickr.com/groups/polaroid_instant_100/pool/
Great SX-70 photographer, Grant Hamilton:
http://sxseventy.com/
Lou O'Bedlam's slr680 portraits:
www.flickr.com/photos/louobedlam/sets/72157594554361877/
Land List (polaroid reference site):
www.rwhirled.com/landlist/landhome.htm
Monthly Photo Assignment
I also discuss this month's photo assignment, Slender. You can read more about how to submit on our Submissions page.
Listen to the Podcast
Now that I've piqued your curiosity, it's time to listen to today's audio show titled, "Instant Holga Photography and More." You can download the podcast here (21 minutes). You can also subscribe to the podcast in iTunes
Technorati Tags: digital photography, podcast, The Digital Story
---
Sponsor Notes...
Add Magic to Your Slideshows -- FotoMagico presentations are so amazing that your audience will be asking how you did it.