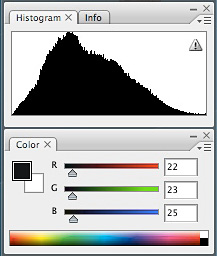 In Part 2 of this interview with Dave Story, Adobe VP of Product Development for Digital Imaging, and Kevin Connor, Senior Director of Digital Imaging Product Management, you will learn more about the development of Photoshop CS3, how Lightroom fits into the big picture, and some of the thinking behind the plethora of features found in Photoshop. Dave and Kevin even discuss the use of Photoshop in criminal investigations and its aiding in the search of lost children. This interview recorded at Adobe headquarters in San Jose, CA.
If you haven't listened to Part 1 yet, you can find it here.
Monthly Photo Assignment
I also discuss this month's photo assignment, Before & After. Participants will submit two images this month: the original picture right out of the camera, and then the edited picture with all of the adjustments made in post production. You can read more about how to submit on our Submissions page. Deadline for entry is June 30.
Listen to the Podcast
Now that I've piqued your curiosity, it's time to listen to today's audio show titled, "Adobe Interview Part 2." You can download the podcast here (27 minutes). You can also subscribe to the podcast in iTunes
Want to share photos and talk with other members in our virtual camera club? Check out our new Flickr Public Group. It's a blast!
Have you looked at the Park by the Numbers Camera Phone Project? If you have a camera phone, you've got to check this out!
Technorati Tags: digital photography, podcast, The Digital Story
---
Sponsor Notes...
Add Magic to Your Slideshows -- FotoMagico presentations are so amazing that your audience will be asking how you did it.