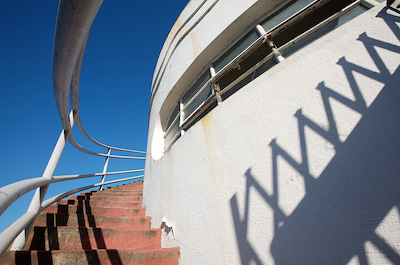 Program mode is great for the bulk of our shooting. But some situations demand that we take more control of our camera to get the shot we want. Aperture priority and shutter priority modes make this easy... that is, if you know how they work.
In aperture priority mode, you set the f/stop and the camera sets the corresponding shutter speed. Most photographers use this mode to control depth of field. I used aperture priority to capture this image of the red stairs. I mounted a 16-35mm zoom lens on a Canon 5D, then set the camera to aperture priority mode at f/16. By "stopping down" the aperture, I was able to extend my depth of field so that everything in this image would be sharp from front to back.
If I were shooting a portrait, I might use a 70-200mm lens and "open up" the aperture to f/4 to create a shallow depth of field. This would enable me to make the background soft and dreamy so it doesn't detract from the subject.
Shutter priority mode enables you to set the shutter speed and the camera controls the aperture. This is particularly handy for action photography where you need to stop motion. But I also use it to photograph water to get the exact effect I want.
In this podcast, I explain how to use both aperture priority and shutter priority modes. I think you'll find it helpful and an easy way to extend your photography.
"Red Stairs" photo by Derrick Story. Captured in San Francisco. Canon 5D, 16-35 mm USM L II, ISO 100, 1/60 @ f/16 (aperture priority mode), +1 exposure compensation to hold the bright whites.
Monthly Photo Assignment
I also discuss this month's photo assignment, Before & After. Participants will submit two images this month: the original picture right out of the camera, and then the edited picture with all of the adjustments made in post production. You can read more about how to submit on our Submissions page. Deadline for entry is June 30.
Listen to the Podcast
Now that I've piqued your curiosity, it's time to listen to today's audio show titled, "Aperture and Shutter Priority." You can download the podcast here (23 minutes). You can also subscribe to the podcast in iTunes
Want to share photos and talk with other members in our virtual camera club? Check out our new Flickr Public Group. It's a blast!
Have you looked at the Park by the Numbers Camera Phone Project? If you have a camera phone, you've got to check this out!
Technorati Tags: digital photography, podcast, The Digital Story
---
Sponsor Notes...
Add Magic to Your Slideshows -- FotoMagico presentations are so amazing that your audience will be asking how you did it.