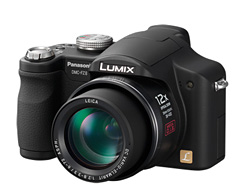 I've been testing the Panasonic DMC-FZ8 for a few months now, and I've just discovered a review on Camera Labs that echos many of my findings. If you're interested in the FZ8, I recommend that you go over to their site and read up on this nifty Panasonic camera.
Overall, I like the DMC-FZ8 because for about $298 US you get a 12X Leica zoom lens with a maximun aperture of f-2.8, Raw mode that can be read by Lightroom 1.1 and Adobe Camera Raw 4, 16:9 aspect ratio for both movies and stills, long battery life, very light and compact body, electronic viewfinder, manual controls, live histogram, image stabilization, intelligent ISO, and a filter ring that is perfect for attaching a polarizer.
On the downside, there is more image noise at higher ISOs (400 and up) than with a Digital SLR (such as a Canon Rebel XTi) and Panasonic's noise reduction can be a little aggressive, resulting in slight smearing visible at 100 percent on a HD screen (but I haven't noticed it in prints). Both of these nits exist in almost all of the competitive models often costing more than the FZ8 (such as Sony's Cyber-shot DSC-H9). Also, the lens only goes as wide as 36mm, but extends all the way out past 400mm on the telephoto end.
Bottom line, I love shooting with this camera at 16:9 in Raw mode using the long Leica telephoto lens. I think it's a perfect addition to your camera collection if you're looking for a compact super-telephoto that records in Raw.
Technorati Tags: digital photography, The Digital Story