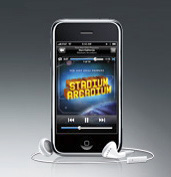 Even though I'm buying an iPhone this year instead of a computer (let's face it, at $600 it costs just as much as a Dell), I'm not going to use it as a business expense. "Why?" you may ask. Because the honest truth is that I'm getting one because I want it, and every other reason is secondary.
That being said, I will post any photo-related tricks I figure out and toss a few pictures on our Flickr Public Group page.
iPhones go on sale at 6pm Friday, June 29. I will get mine as soon as possible. My question to you is... "Are you getting an iPhone?" (I won't ask if it's a business expense or not.) Post your thoughts in the Comments section below or on our Flicker discussion forum.
Technorati Tags: The Digital Story