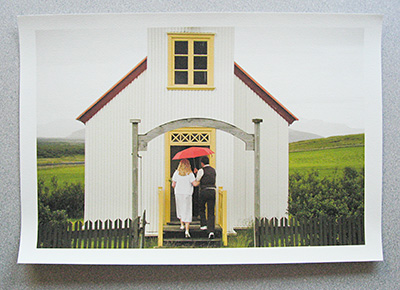 During a recent discussion about printers on the TDS Flickr public group page, I asked members what they are using to make prints. The Epson R1800 and HP B9180 were mentioned a few times, along with other options.
I thought this would be an interesting topic for the podcast, along with my three tips for great prints:
First, calibrate your monitor. I like the Pantone Eye-One Display LT Monitor Color Calibrator for about $163 US, but any good colorimeter will work.

Next, match your ICC profiles and printing paper. Usually the easiest way to do this is to buy paper manufactured by the same company that makes your printer. If you have an Epson, buy Epson paper. The corresponding ICC profile will be available in your printer dialog box because they are loaded on to your computer when you install the print driver. If they're not there, go to the manufacturer's web site, download them, and install them on your own.

Finally, let the application control the color management (Photoshop, Lightroom, Aperture, etc.). Make sure you're using the matching ICC profile (usually called out under "Profile") for the paper that's in your printer, and you're set.
Monthly Photo Assignment
I also discuss this month's photo assignment, Before & After. Participants will submit two images this month: the original picture right out of the camera, and then the edited picture with all of the adjustments made in post production. You can read more about how to submit on our Submissions page. Deadline for entry is June 30.
Listen to the Podcast
Now that I've piqued your curiosity, it's time to listen to today's audio show titled, "Printers and Prints." You can download the podcast here (29 minutes). You can also subscribe to the podcast in iTunes
Want to share photos and talk with other members in our virtual camera club? Check out our new Flickr Public Group. It's a blast!
Have you looked at the Park by the Numbers Camera Phone Project? If you have a camera phone, you've got to check this out!
Technorati Tags: digital photography, podcast, The Digital Story
---
Sponsor Notes...
Add Magic to Your Slideshows -- FotoMagico presentations are so amazing that your audience will be asking how you did it.