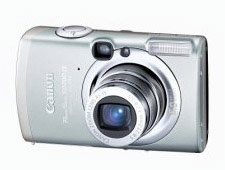 A few weeks ago I posed the question on The Digital Story Flickr Public Group asking about your favorite compact camera. I've been using the Canon PowerShot SD700 IS (which 2 other members also like) and the Panasonic Lumix FZ8 for my grab shots on the go. I like both cameras because they have good lenses with long zooms (4X and 12X), great image stabilizers, handy movie modes, and good picture quality. What was interesting among our membership was that many are still using older compacts, not feeling the need to update to the latest and greatest.
"I still love my Canon PowerShot S30 even if it is 5 years old," says zenlibra. "It may only pack 3.2 MP, but it has full creative controls (Av, Tv, P, M) and it captures RAW files. It's metal body is bulky and a little heavy, but it's been dropped with out any noticeable damage."
And alansf says "I use a Fuji f10 for its high ISO 1600. It is about 3 years old, and I get pretty good low light shots hand held. I use the auto-ISO feature which gives me automatic adjustments in low light. The only drawback is there isn't optical viewer which makes outdoor pictures hard to compose on the LCD screen."
Others, such as pwscott61, are happy with the latest that technology has to offer remarking, "My fave is definitely the Powershot SD800 IS. I've made 13"x19" blowups of handheld shots in only fair lighting that friends bet were with my DSLR. "
Here's the actual list of compact cameras that TDS members said they are currently using:
Canon Powershot G3
Canon PowerShot S30
Canon PowerShot SD700 IS (2 Members)
Canon PowerShot SD800 IS (2 Members)
Fuji f10
Nikon Coolpix 4300
Nikon Coolpix 5900
Nikon Coolpix 8400
Olympus 720sw
Panasonic DMC FZ-50
You can read more about why they like these models by visiting the The Digital Story Flickr Public Group.
Program Note: There will be no podcast this week because of vacation. I will be back with a brand new show next Tuesday, Aug. 7.
Technorati Tags: digital photography, The Digital Story