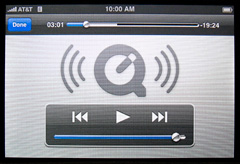 You can now stay current with The Digital Story podcasts on your iPhone. That's right, it's simple to browse current episodes and download the shows you want to hear (via EDGE or WiFi). You don't even need your earbuds... just use the stereo speakers on the iPhone itself. It couldn't be easier.
All you have to do is point your iPhone's Safari browser to www.thedigitalstory.com/iphone, and you'll be presented with an easy to navigate page with the last 5 episodes of The Digital Story. Click on the show you want to listen to, and the iPhone will download it via EDGE or WiFi and begin playing the show as soon as it's captured enough content to play without interruption.
I learned how to do this reading an Adam Weiss post on O'Reilly's Digital Media weblog. Adam had discovered the code written by Christopher Penn from the Financial Aid podcast. Christopher makes the code available via the Podcaster iPhone Kit. It's really easy to implement, and Adam explains exactly how to do so. Thanks to both Christopher and Adam for making this available.
Of course the iPhone Edition of The Digital Story will work on any device that supports web browsing and QuickTime playback. This is a great way to keep up with our podcasts while on the go. You can also subscribe to The Digital Story via iTunes Music Store (all for free!).
Technorati Tags: podcast, gadgets, The Digital Story