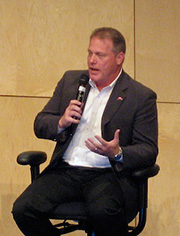 The recent Microsoft Pro Photo Summit in Redmond, WA featured many panel discussions on the business of professional photography today. Among the discussions, some of the most interesting involved copyright protection for photographers and the new "orphaned works" legislation proposed by Congress.
In this podcast, I discuss my impressions and some of the highlights from the Summit, including a little background on Orphan Works.
Photo of David Trust, PPA CEO speaking at the Microsoft Pro Photo Summit by Derrick Story
Monthly Photo Assignment
I also discuss this month's photo assignment, Pattern. Keep your eyes peeled for the patterns that are all around us. You can read more about how to submit on our Submissions page. Deadline for entry is July 31.
Listen to the Podcast
Now that I've piqued your curiosity, it's time to listen to today's audio show titled, "Orphan Works and Notes from the MS Photo Summit." You can download the podcast here (28 minutes). You can also subscribe to the podcast in iTunes
The Digital Story Podcasts are also available for direct download from Apple iPhones. I've created a special mobile download page here.
Want to share photos and talk with other members in our virtual camera club? Check out our new Flickr Public Group. It's a blast!
Have you looked at the Park by the Numbers Camera Phone Project? If you have a camera phone, you've got to check this out!
Technorati Tags: digital photography, podcast, The Digital Story
---
Sponsor Notes...
Add Magic to Your Slideshows -- FotoMagico presentations are so amazing that your audience will be asking how you did it.